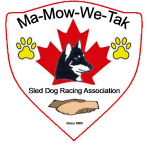 Ma-Mow-We-Tak

Sled Dog Racing Assoiation

Membership





                  Application
(Please Print)

Full Name____________________________________________

Family Members______________________________________

(if applicable)

Address______________________________________________

Town / City___________________________________________

Province / State______________Postal / Zip________________

Phone (_______)____________E-Mail_____________________

This page was last updated on: October 9, 2013
OFFICERS

President:

(306)278-3372

Vice President:

(204)623-1663

Treasurer:

(204)-778-5458

Secretary:

(204)623-5241

Co-Webmasters :

Membership Dues

Single $ 40____

Family $ 50____

Junior $ 10____

all rates in Canadian dollars

Send Complete

Applicaton Form To

Ma-Mow-We-Tak

Sled Dog Racing Association

Box 297

Porcupine Plain, Sask.

S0E 1H0

A receipt, or e-m,ail confirmation will be sent to you upon request

Yearly Membership runs from Annual Spring Meeting to Annual Spring Meeting

The Ma-Mow-We-Tak SDRA is open to anyone with an interest in the sport of sled dog racing. Our goal is to promote the sport in a positive manner from recreational to professional mushers. As a paid member you will receive our December newsletter yearly. You will have the right to attend, as a voting member, the annual spring meeting. You will be entered in the points championship for any races which you participate in that are eligible. There will be $5.00 from every membership sent on your behalf to Mushing Canada to support the growth of our national organization.

You can find a complete list of race rules and other membership information

To register you can use paypal, or click here to print this page and send it along with a cheque or money order to the address listed on the form.